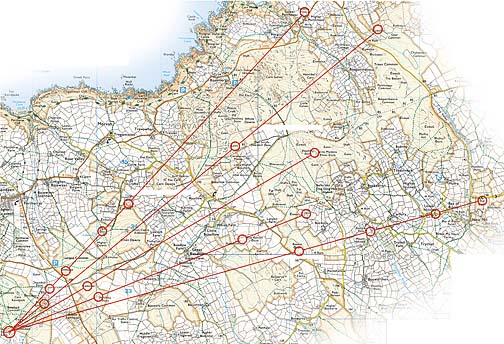 But Cornwall is also home to another major invisible route: the Michael & Mary ley alignment which connects dozens of ancient sites across southern Britain.

In the 1960s the late antiquarian John Michell re-discovered knowledge of this alignment. This would be confirmed later by a local researchers Paul Broadhurst and Hamish Miller,who mapped it from Cornwall to the coast of East Anglia. By the time they had reached the opposite side of the country, they had successfully linked dozens of ancient places of veneration, as well as newer Celtic-Christian churches that supplanted some of the original sites, as well as several Gothic cathedrals. All in a straight line covering 370 miles.

Curiously, they had originally been tracing the path of two Earth magnetic lines, but only at the end of their journey did they realize that the serpentine flows of energy currents, and the sites that stood upon them, when mapped formed a perfect diagonal line. It was awarded the name Michael and Mary line due to the astonishing preponderance of churches along its path dedicated to St. Michael (and his complimentary St. George) and St. Mary (and her complimentary St. Margaret).

While skeptics have argued that this is a mere coincidence, they have never attempted to explain why this alignment is precisely oriented to one of the Celtic calendar's most important dates, May 3, the feast of Beltane. On this day the sun rises and shines it's light along this invisible terrestrial serpent and all monuments along it, from Hopton in the east to Land's End in the West. Then at Lughnasa, the setting sun on August 1st illuminates it from the opposite end.

This astronomical connection is one compelling theory behind the motivation of neolithic architects— and perhaps prehistoric— as to why leys were created in the first place.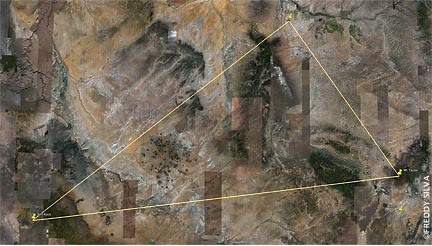 Unlike the Celtic cultures of Europe, the tribes of North America rarely constructed temples. To them the land was the sacred temple. Instead they sourced magnetic hotspots on the land, and their locations were through oral oral tradition. Consequently, there is little record of native tribes' sacred sites, unless one is conversant with local folklore, or even better, if one has the confidence and trust of tribal elders.

During my many travels through the southwestern United States I noted how three places always stood out in local tribal myths. One was my favourite, the winged rock Tse Bitai, which is sacred to the Navajo, and before them, the Anasazi. Once you spend a couple of hours under the solitude of its protective wing you will understand the meaning of natural power.

Mt. Taylor, a massive volcano north of Acoma Pueblo, has also been sacred to the myriad of tribes, and access to the site to non-native people today is still discouraged on the grounds of respect. A third point is almost obvious when you think about its location: Sedona. But given how many alleged portals exist in that area (and there are far fewer than commonly advertised by local greedheads), the choice is not so obvious. But Bell Rock possesses an aura quite unlike any other in that corner of the world. For one thing there are many different soils and stones buried there which have been brought from other sacred sites around the world. This tradition of building 'rainbow bridges' between sacred places is as old as myth, and certainly this unusual-shaped hill has been a place of veneration as far back as native shamanic traditions will recall.

Looking for possible leys in this bleak landscape is not an easy task. Again, the lack of surviving landmarks makes any quest futile. However, these three particular sites do align: as a triangular geometric ley. True, any three sites will create a triangle. But these three sites are uniquely connected by the same legend, and together they align as a perfect 3:4:5 ratio triangle.

This one spans 600 miles.

The isosceles triangle was allegedly discovered by Pythagoras, and schools today still give him this credit. However, Pythagoras himself credited his knowledge from the teachings he received while at the famous Library of Alexandia c540 BC. If we consider that the above native sites go back thousands of years, one has to wonder just how old this knowledge really is.

Return to Alignment